The Agence immobilier Aragon provides also villas for sale in Nice and its region
Our aim is to offer you the widest range of products possible in the Nice and his area property market. This can be done with the help of Alexandra Lloyd Properties that specialises in luxury villas along the Côte d'Azur.
We are certainly one of the most active companies in the area, specialising in sales of apartments or villas, or any other type of property in the French Riviera and Corsica.
The latest villa located in Mont Boron offers the features most appreciated by foreign customers, especially Russian. From the Boulevard Maeterlinck, drive a few hundred to over Mont Boron, and a magnificent Belle Epoque villa overlooks the bay of Nice with a full western orientation, overlooking the rooftops of Nice. Upon entering the property, it is either through the palace gates to get in a car, either by pedestrian access.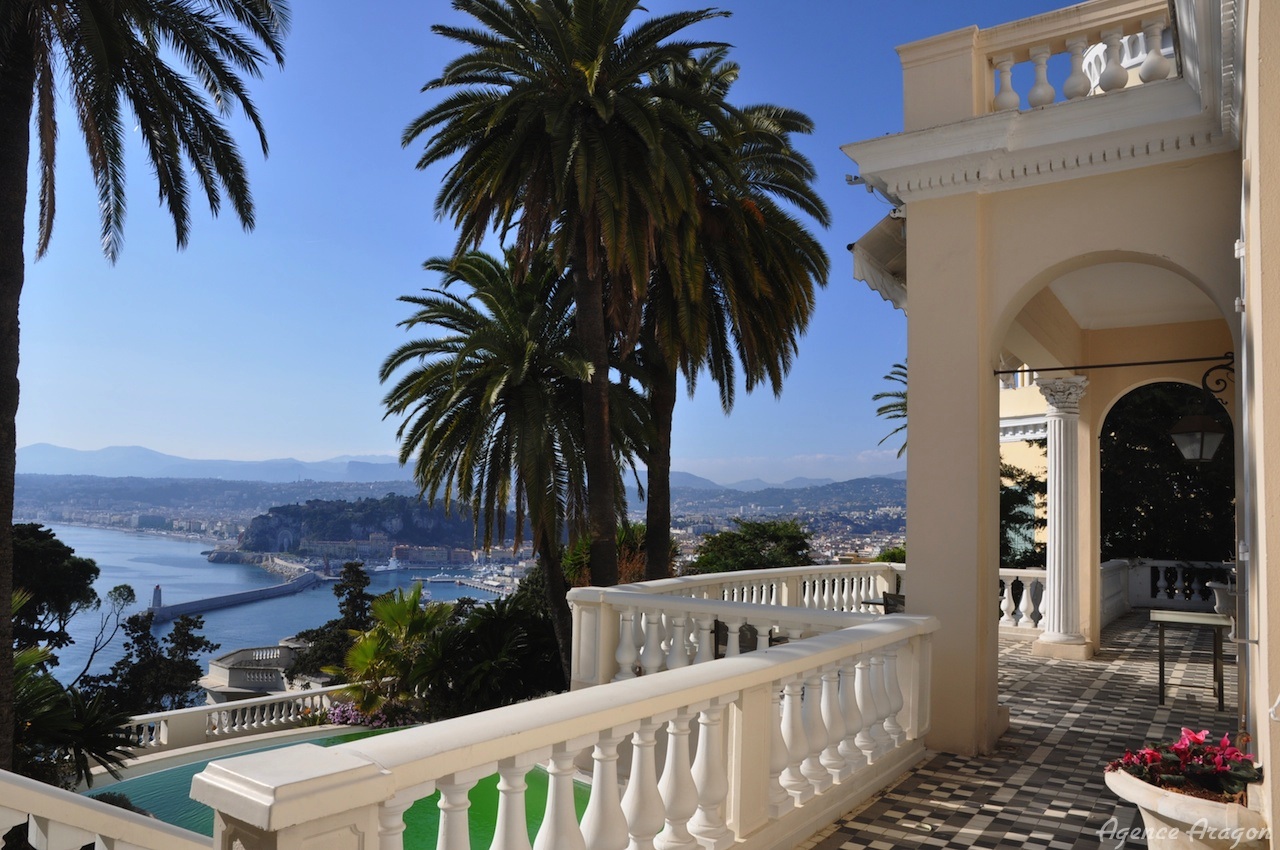 From the outside, you can then move around the house and go straight to the pool in front of the house. On entering the house is a large entrance hall period features marble, with a staircase decorated with a wrought iron handrail, typically at the former. Top of the stairs we see also a large painting depicting a lady in a dress, one imagines that this may be the former owner. Upon entering the room, it takes the entire width of the house, a library at the bottom right, and a dining room on the left. The environment is a huge living room with fireplace.

It is then eager to climb on the floor by the magnificent staircase. It then enters a room and it was initially surprised by the size of the master bedroom, and when the window opens, this is a sumptuous spectacle for us. The terrace is a splendid view of the city of Nice, it is above the rooftops of the city, you see the sea of azure blue, and there are nearby towns until Cannes. The visit took place during the day, one can easily imagine the sopectacle a magical sunset, knowing that the seasons, the water color is different.
Example of two villas for sale in the Nice region :
| | | |
| --- | --- | --- |
| | | |
| Ravishing Belle Epoque Villa in Mont Boron | | Provencal villa in Roquebrune Cap Martin |