The Real estate agents in Nice
The city of Nice is one of the most touristic place in the South of France. There are almost 700 real estate agencies in Nice.
Founded in 1935, Agence Aragon is one of the oldest estate agencies in Nice, Côte d'Azur. Located on the Boulevard Gambetta, one of the main streets in Nice, the agency is in prime position to welcome clients from all corners of the world.
Specialising in offering apartments within Nice city center, the agencys' good name and excellent reputation often receives the exclusive right to offer properties to their clients.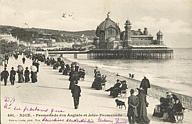 Adverstising a wide range of products from property investments, recently renovated apartments to superb luxurious apartments with sea views, Agence Aragon can be sure to match you with the perfect property.
The strongly motivated team is made of three estate agents who puts together, speak French, English, Italian and even Corsican.
Our aim is to make your buying process in France as easy and hassle-free as possible. When we have matched you with the ideal property, we offer a full support with all administrative affairs such as finding an English speaking notary, the most interesting bank loans, opening a French bank account and also recommending builders, plumbers, electricians, painters, ...etc
Our aim is not just sell properties, but to help and assist in all ways that we can, so that your move to the South of France goes as smoothly as possible.
Our aim is to offer you the widest range of products possible in the Nice property market.
We are certainly one of the most active companies in the area, specialising in sales of apartments or villas, or any other type of property in the Cote d'Azur and Corsica.
The use of magazines has enabled Agence Aragon to become one of the biggest agencies to use this form of advertising.
In 1998 the agency decided to concentrate its sales on the Cote d'Azur, and mainly specialising in Nice, with the help of Nice Real Estate to diffuse the properties for sale on the internet.
The wide range of products held on the companies database, the large international clientele, for the buying and selling of apartments in Nice, the quality of the property service along the Cote d'Azur, (specialised multilingual team) and the excellent quality/price rapport for apartments in Nice, we do our very best for the Agence Aragon is well referenced to reach whoever is wishing to acquire property in Nice and the Cote d'Azur.